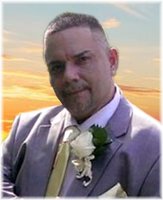 Aurelio Cortes
Aurelio Cortes, age 57 of Bridgeport, entered into eternal rest on Thursday, February 1, 2018 at his residence, surrounded by family. He is the loving husband of Sonia Rosa. He was born in Aguadilla, P.R. son of the late Aurelio Cortes and Carmen Ramirez. Aurelio is the caring father of Yesenia Nieves; an adoring grandfather; and the brother of Luis Ruiz, Jose Ruiz, Miguel Morales, Milagros Diaz, Maritza Cortes, Wanda Cortes, Mayra Ruiz, and Calalina Cortez. Friends and Family are invited to attend Calling Hours on Sunday, February 4, 2018 from 5 to 7 p.m. at the Funeraria Luz de Paz, 426 E. Washington Ave., Bridgeport, CT 06608. Disposition will be held privately and at the convenience of the family. Please explore his online memorial page where you may share your memories, prayers, and so much more found exclusively at www.luzdepaz.com.
to see the services live/para ver los servicios en vivo
go to........ www.zoom.us
top right corner click on join a meeting/mano derecha arriba oprima "Join a meeting"
enter the following meeting number/entre el numero de reunion siguiente
2033308081 (our phone number/lo cual es el numero de telefono nuestro)
android or ios, download zoom cloud app / con telefonos sistema andrioid o ios baje applicacion titulada zoom cloud
enter app/entre a la aplicacion
click join meeting and enter meeting number/oprima, ingresar a reunion (join a meeting)
entre los numeros 2033308081